Are you wondering how to boost your product conversations and business productivity with the help of an explainer video software?
Animated explainer videos are a great way to market your product or service. They're fun and informative and can help increase understanding among customers. Not only do they help increase awareness, but they also help businesses achieve productivity goals. A whopping 84% of consumers claim they have purchased after seeing a promotional video.
Not familiar with explainer videos? No problem! Please continue reading to learn more about explainer videos and the finest tools for creating high-quality videos for your business.
What are explainer videos?
An explainer video is a visual representation of an idea, product, or service meant to catch people's attention and get them to sign up for more information. An explainer video is a visual representation of an idea, product, or service meant to catch people's attention and get them to sign up for more information.
By using exciting graphics and content, businesses can improve their online presence and make more people aware of their products. It also invokes human emotions and compels people to make a well-informed decisions.
Explainer videos are often put on a landing page, the home page of a website, or a page about a popular product to improve the user experience.
Types of Explainer Videos:
Animated Explainer Videos
An animation explainer uses character animations and text to explain a product, service, concept, or process. An animation explainer is one of the most popular types of explainer videos, as it is simple to create and accessible to audiences.
It is often the best way to explain services or tech products that are hard to see, like software. You can use our list of video editing software to locate a suitable program.
Live-Action Explainer Videos
Everything in a live-action explainer is shot in real-time with real people. Live-action explainer videos work best for brands that offer a product or service that customers can see or touch, like restaurants and consulting firms.
Such examples include the Dollar Shave Club and the Pourri movies. Prospects are naturally drawn to real faces, making it easier to connect with them on a deeper level.
Whiteboard Explainer Videos
In a whiteboard explainer video, animations are hand drawn and erased on a whiteboard. This type of video has become popular because it is easy to use and doesn't cost much, making it one of the least expensive ways to make an explainer video.
The whiteboard format is ideal for explaining complex ideas about a service or product.
Different software to make explainer videos
With the right tools, you can turn your video vision into reality and create stunning visual effects. All you need is a little creativity and some imagination.
Here's the best explainer video software to create compelling animated videos and improve your marketing.
All you need is a little creativity and some imagination. 
Adobe After Effects is utilized for motion picture compositing, animated explainer video, and visual effects. This software is used in the post-production phase, enabling users to modify the final output with an extensive range of unique products.
After Effects can key your shots or different composite footage into one cohesive piece; with the power of built-in presets and other templates, you can make your explainer video stand out from the rest.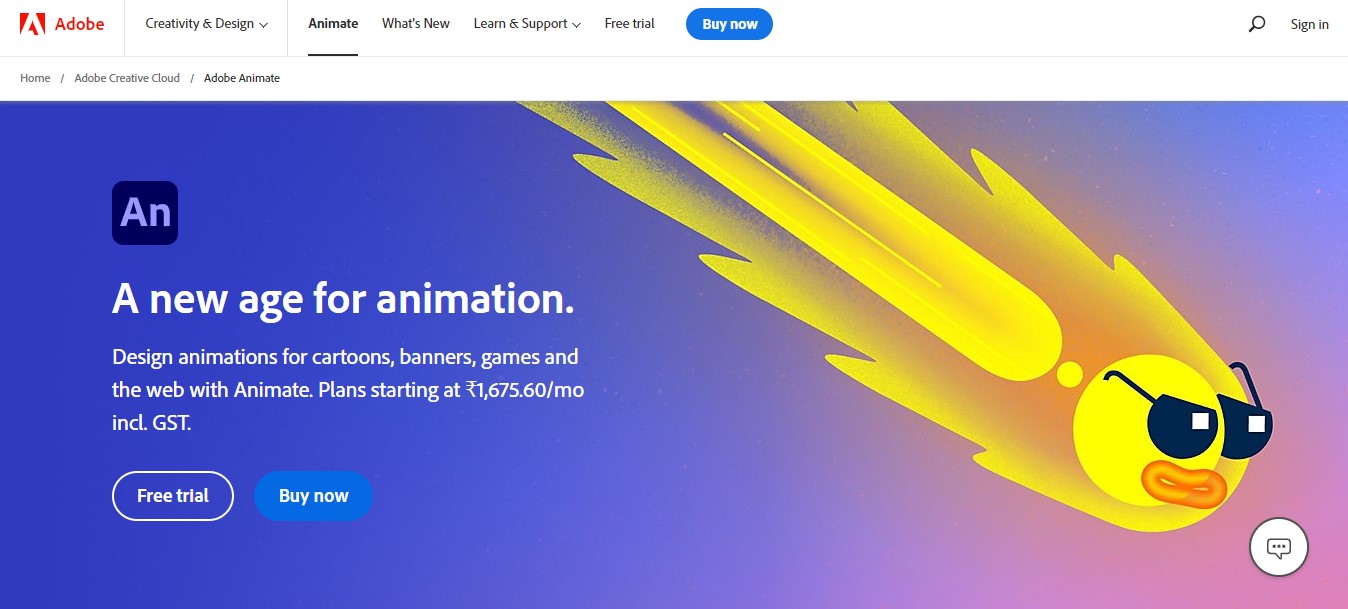 Adobe Animate is a powerful animation tool that can create explainer videos. With its wide range of features and easy-to-use interface, businesses can make engaging, interactive content that can be shared on many online platforms.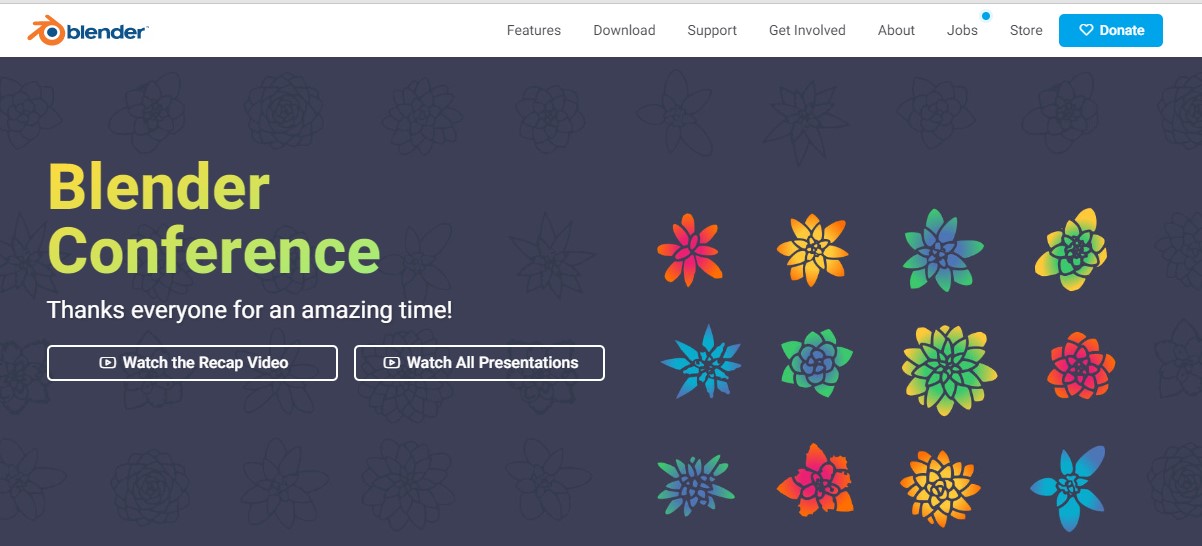 Blender is an excellent program for creating animation and explainer videos. The smooth integration of 2D and 3D elements gives you more control over animated features, and the many rigging and animation tools make it easy to create characters.
Blender is an excellent choice for animated explainer videos because the graph editor makes it easy to make smooth transitions and add interesting effects.
DIY Animation Explainers Tools: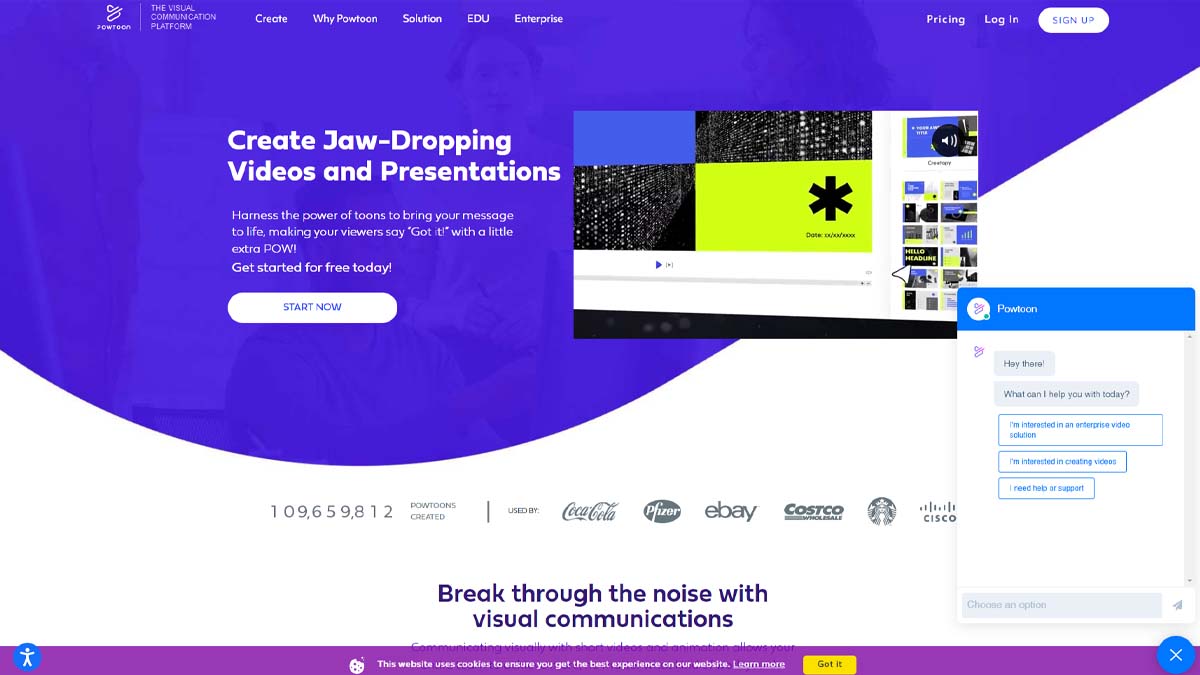 PowToon is a user-friendly video software that allows you to create high-quality animated videos. With their easy drag-and-drop interface, you don't need any prior technical knowledge to get started.
Plus, they have a library of pre-made templates to get you started quickly and easily. So if you're looking to create an engaging and visually appealing explainer video, PowToon is worth checking out.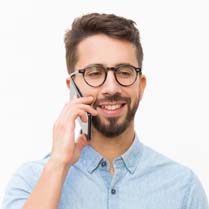 Let's create stunning videos together!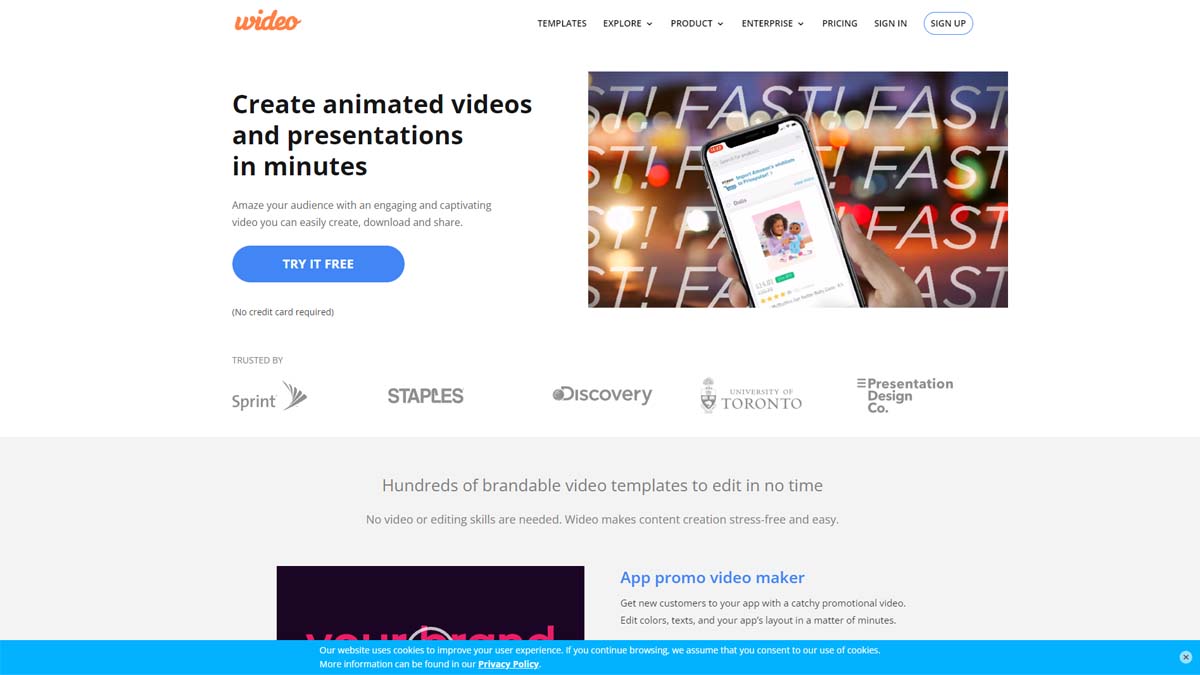 Wideo is a powerful online explainer video maker that lets people make high-quality, quick, and easily animated explainer videos. With over 1300 images and 50+ music tracks, users can create full HD explainer videos in minutes without any animation experience.
Animaker is another explainer video maker software that lets you make beautifully animated explainers for your product. You can create unique and engaging videos with over 120 animation styles and five different video styles.
The typography and infographic template styles in Animaker are also great for content marketers who want to make content that looks good.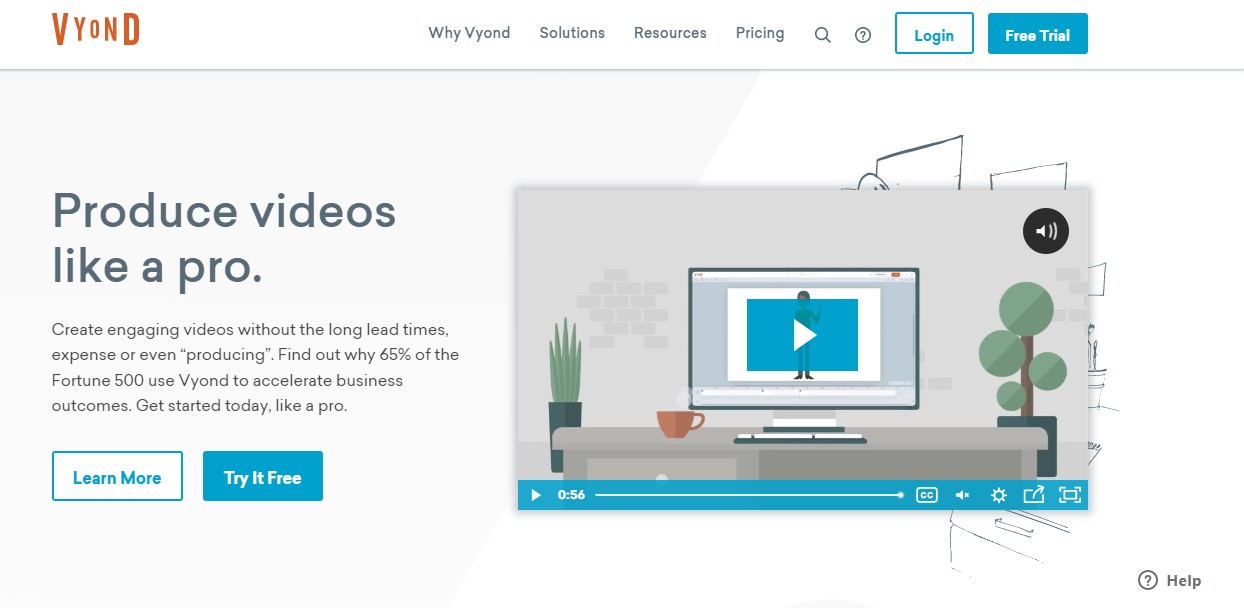 Vyond is a powerful animation tool that lets you easily create explainer videos. With its user-friendly interface, you can quickly customize characters and props to create a scene.
You can also add additional cameras to each scene to capture unique movements, making your video more engaging.
#8) Biteable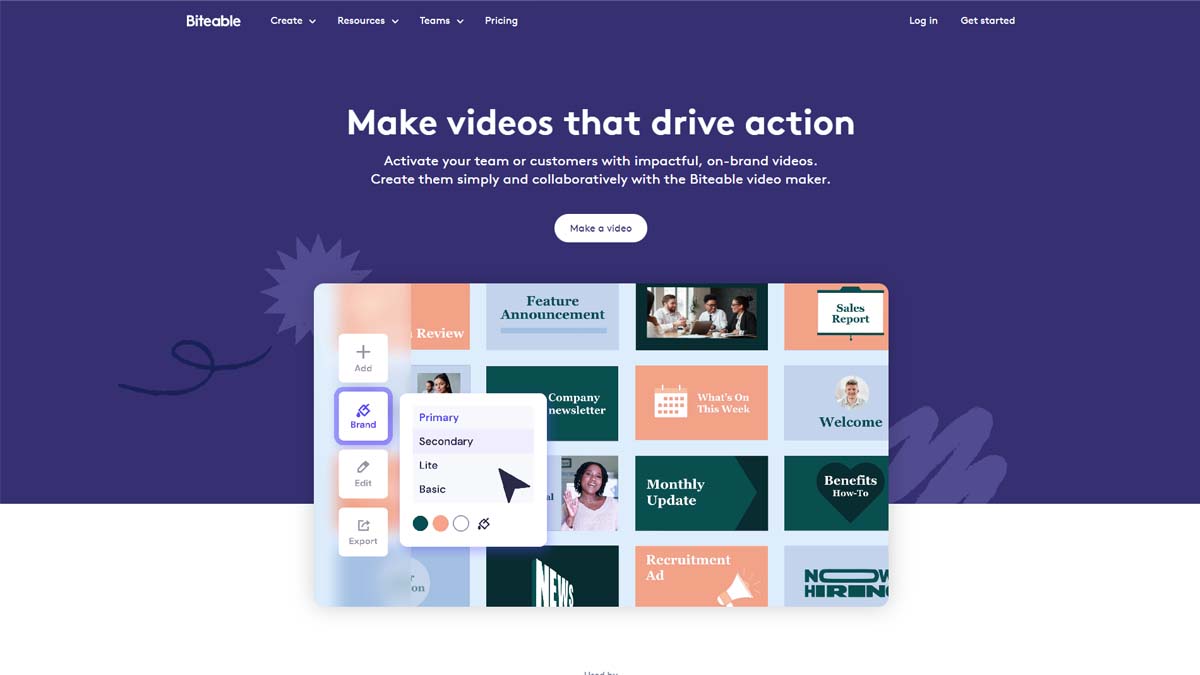 Biteable is a user-friendly online video maker that helps you create engaging animated explainer videos in minutes.
You can get started immediately with its pre-made templates and media files library. Plus, it offers a free version that lets you create HD videos and publish them directly to YouTube.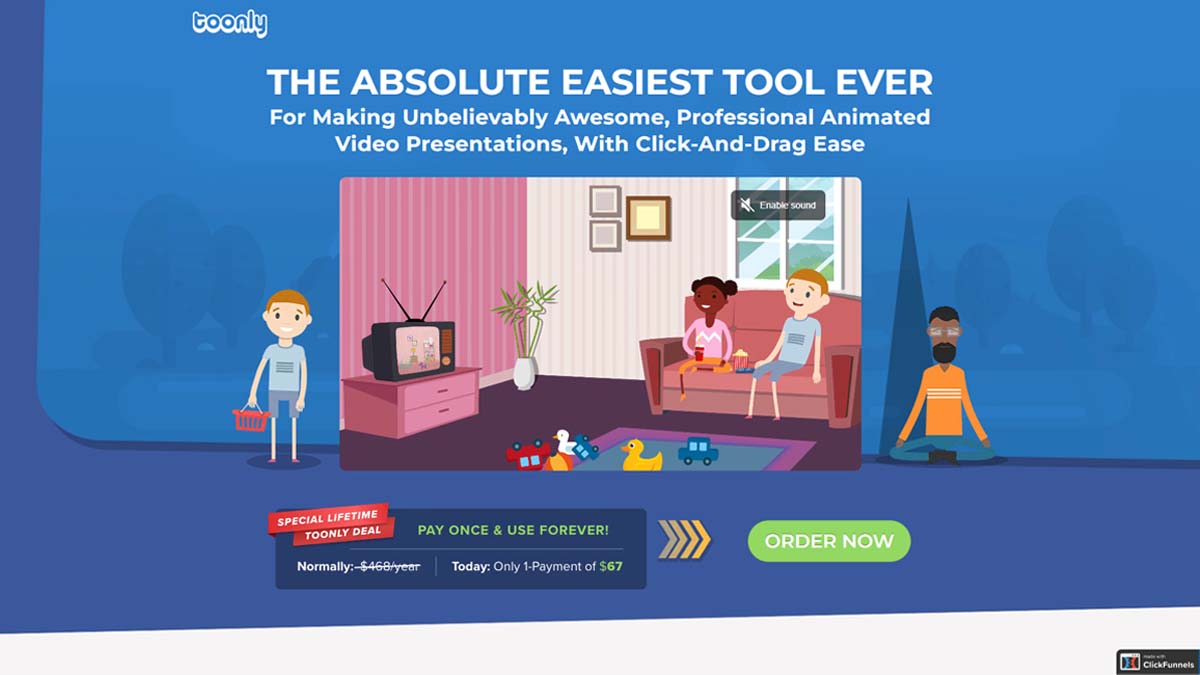 Toonly is a video creation platform that specializes in animated explainer videos. Their easy-to-use interface makes it simple for anyone to create engaging, informative videos.
With a library full of animated characters, props, and backgrounds, small businesses can create professional-quality videos without investing in design or animation skills.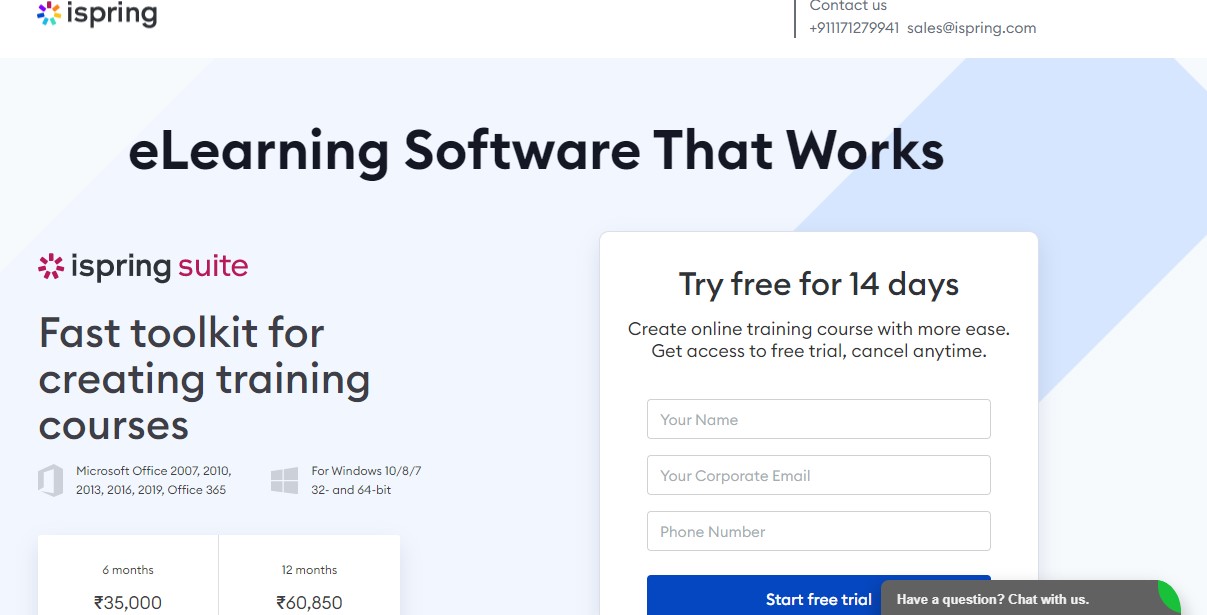 iSpring Suite is an excellent toolkit for creating animated explainer videos. With its built-in video studio, you can easily create professional videos with little effort.
The studio makes it easy to mix videos and add animations, images, and infographics. You can also add a voiceover or music to your video.
Explainer Video Software for Whiteboard Animations: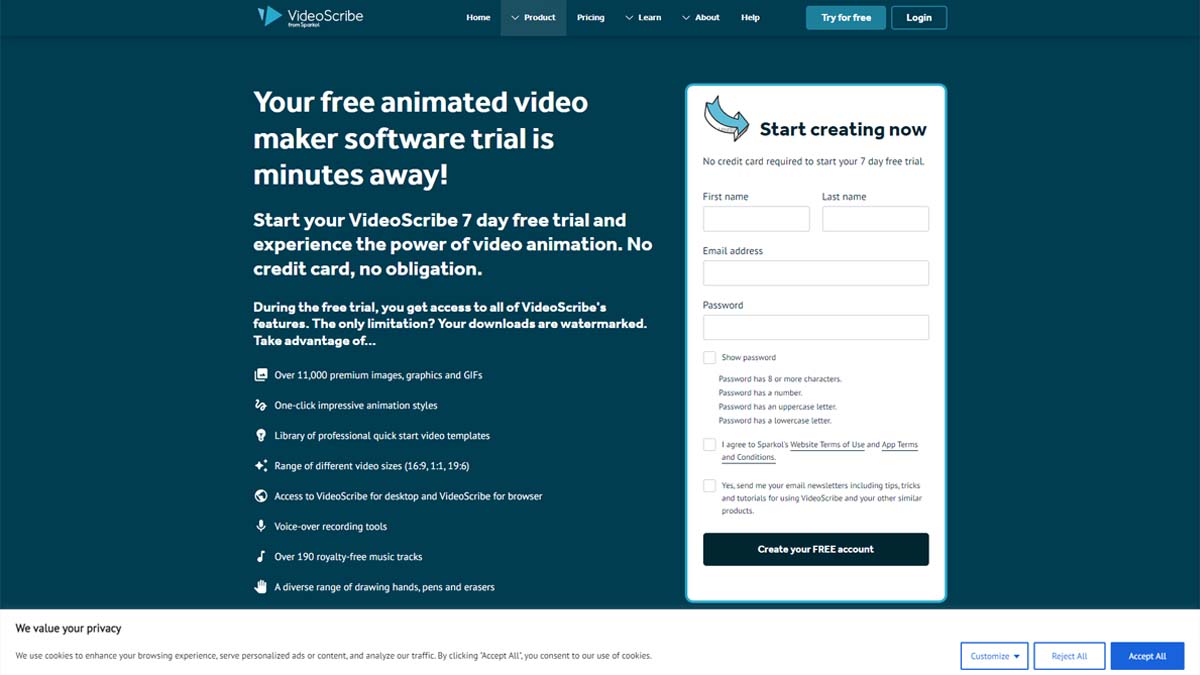 Videoscribe is an incredible tool that allows anyone to create whiteboard animation explainer videos. With a library of images to choose from and drag-and-drop simplicity, you can create exciting custom animations with little effort.
Videoscribe is the perfect tool for businesses, educators, and anyone who wants to create engaging, informative videos.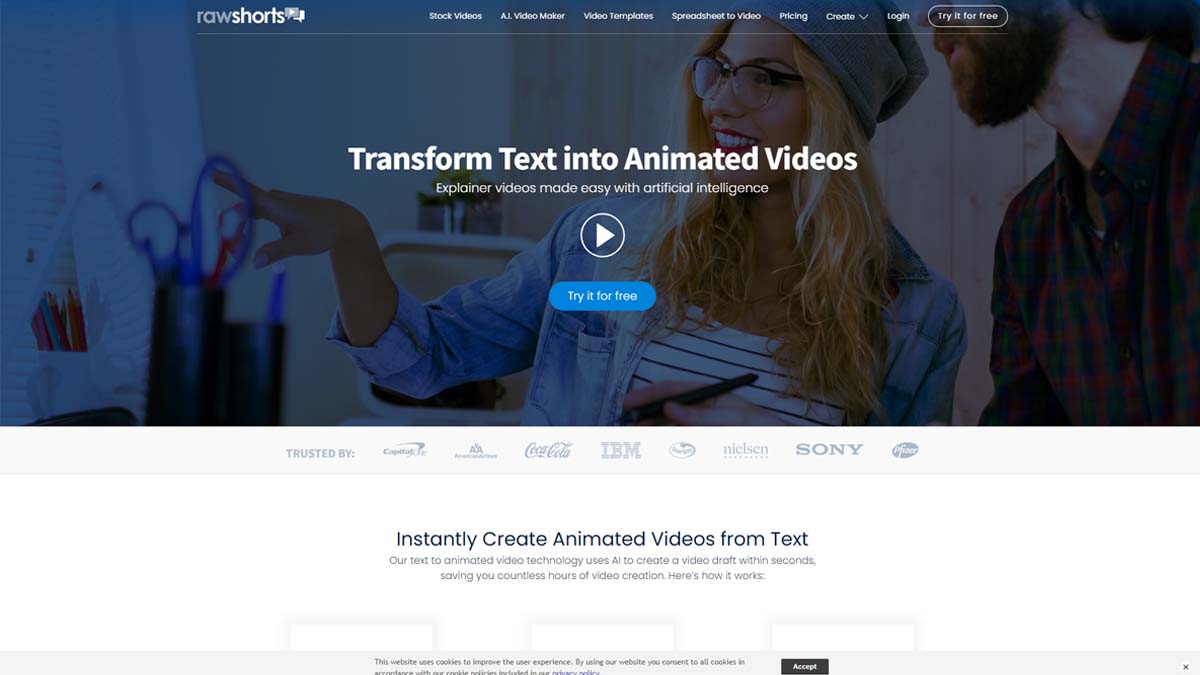 RawShorts is an excellent DIY whiteboard animation software that can help you create explainer videos quickly and easily.
With a wide variety of creative graphic templates and impressive transitions and effects, RawShorts makes it easy to create videos that look professional and engaging. Prices start at $39/month for a basic annual plan.
#13) MySimpleShow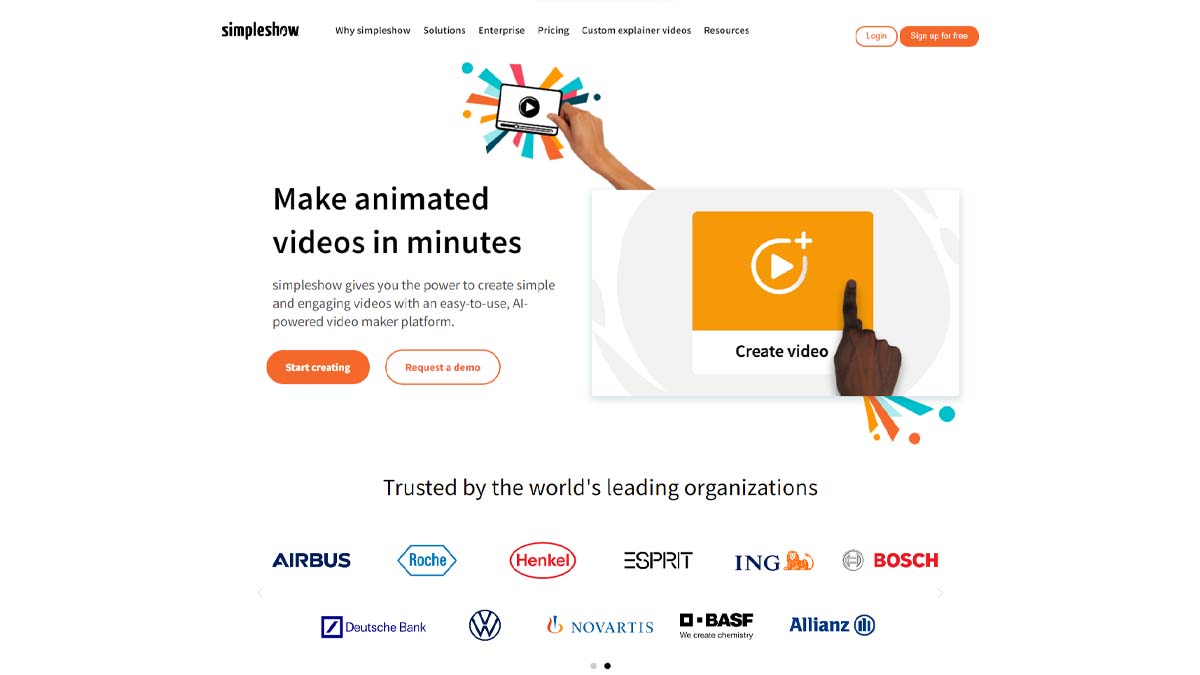 MySimpleShow is software that helps you create whiteboard animation explainer videos. The process is unique in that you must write a script before starting the video creation process.
This helps ensure you clearly understand what you want to say before creating the video. The software also provides a variety of illustrations and characters to help bring your video to life.
#14) Easy Sketch Pro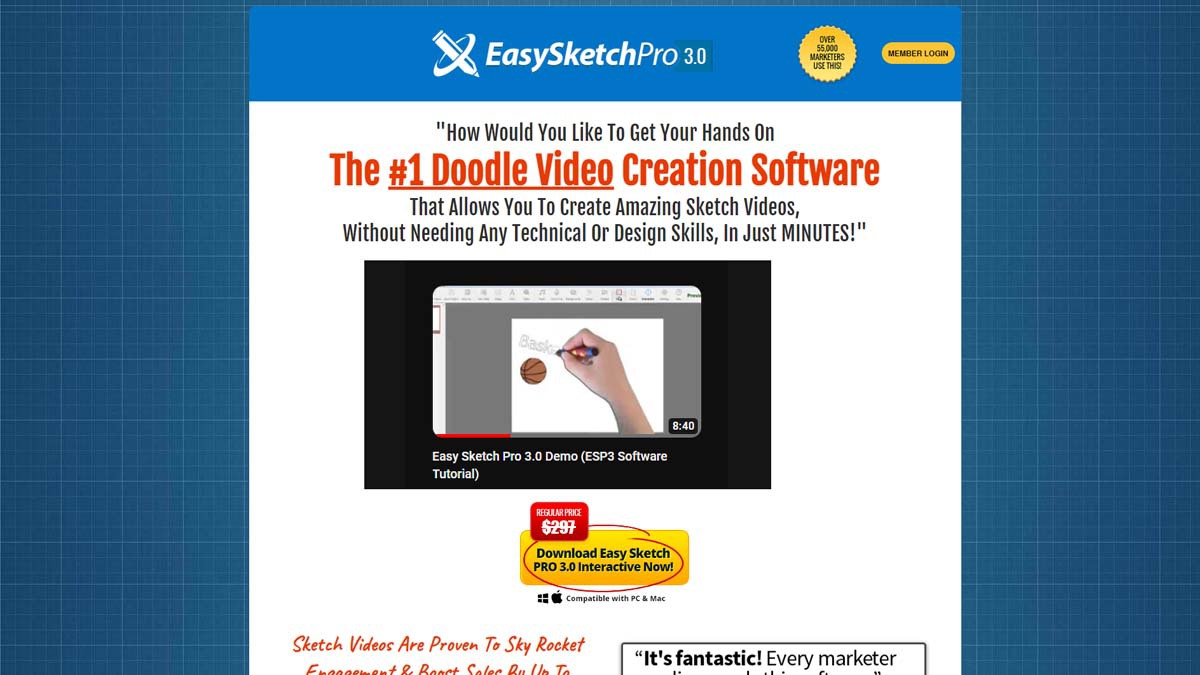 Easy Sketch Pro is a powerful video creation software with many features to help you create high-quality whiteboard animation explainer videos.
With this software, you can choose from 500 icons and select the hotspot size, color, visibility, and text. You can also add an autoresponder, customize and add the GoToWebinar webinar registration form, and add videos from Vimeo or YouTube.
Tools for creating Live-Action Videos: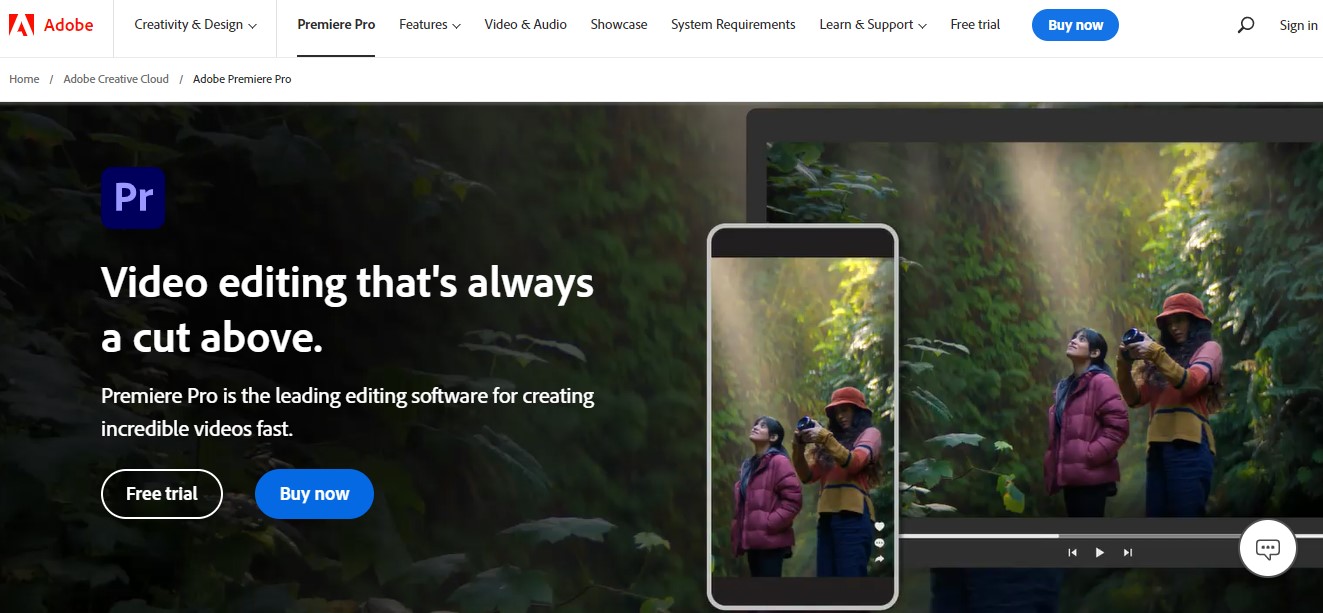 Premiere Pro is dope for creating live-action explainer videos. It is used to create high-quality, live-action explainer videos. It can import video footage, audio, and graphics and create new, edited footage in any modern format, including 8K and virtual reality.
Premiere Pro is a comprehensive video editing software application and is often used in conjunction with After Effects and Photoshop on creative projects.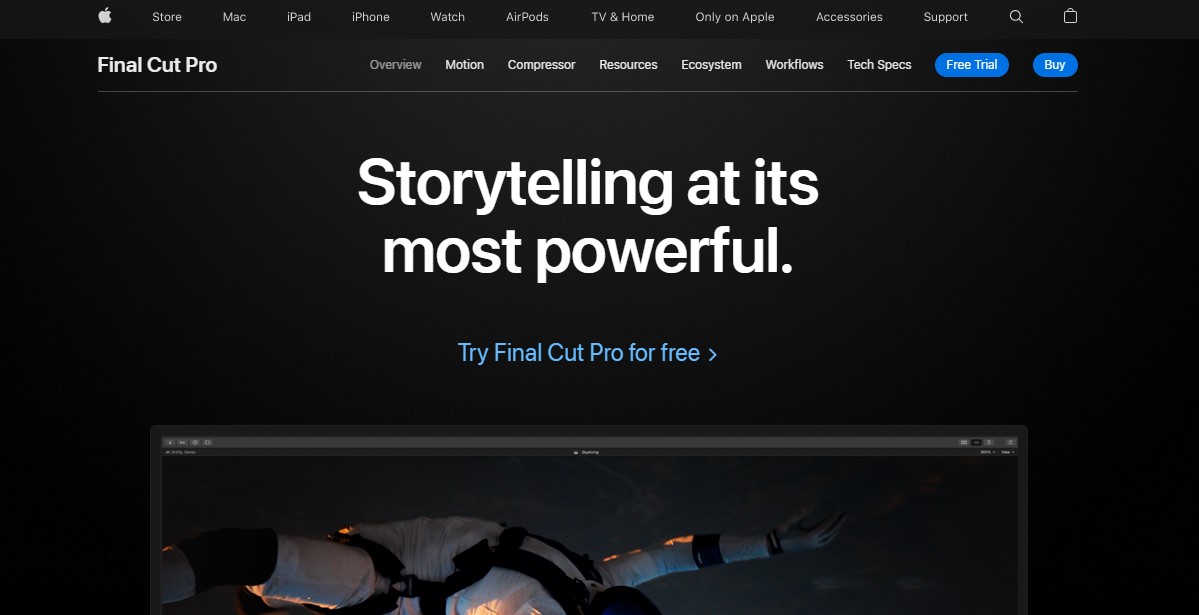 Final Cut Pro from Apple, Inc. is an industry-leading video editing software that allows users to create professional-quality videos. Apple's Metal interface makes it faster and more reliable than its earlier versions, while additional programs such as Motion and Compressor give users the power to create eye-catching visual effects.
People will be impressed by the high quality and attention to detail in live-action explainer videos made with Final Cut Pro.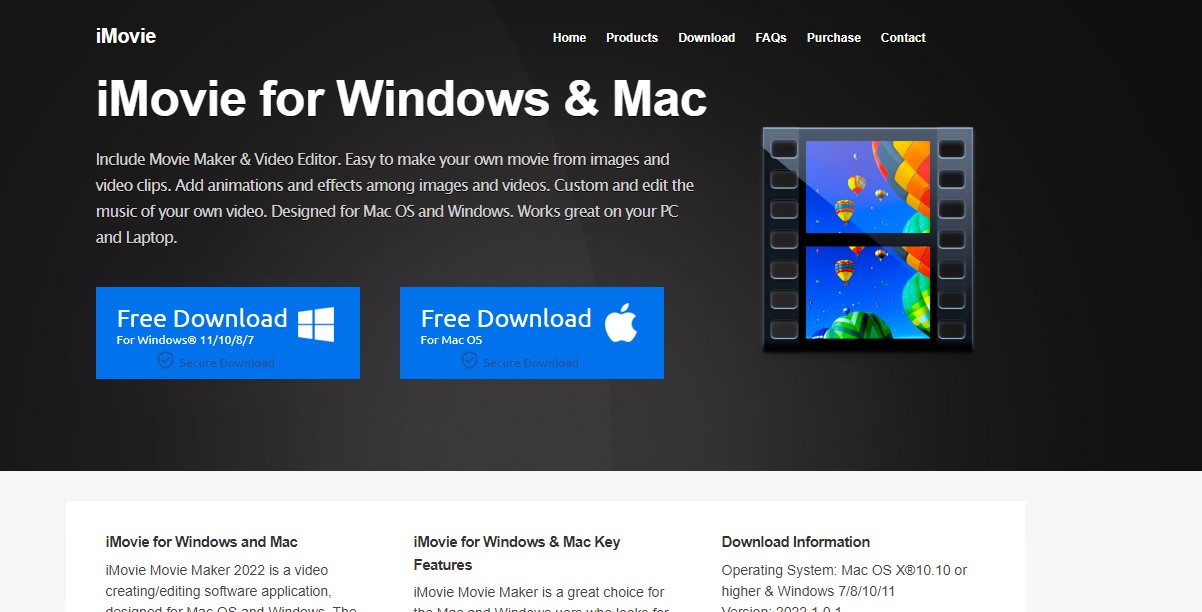 iMovie is studded with features for creating live-action explainer videos. With its easy-to-use editing tools, you can quickly create professional-quality videos that explain your product or service. And with its wide range of built-in templates and effects, you can easily add creative touches to your videos.
Bonus Do It Yourself (DIY) Software For You: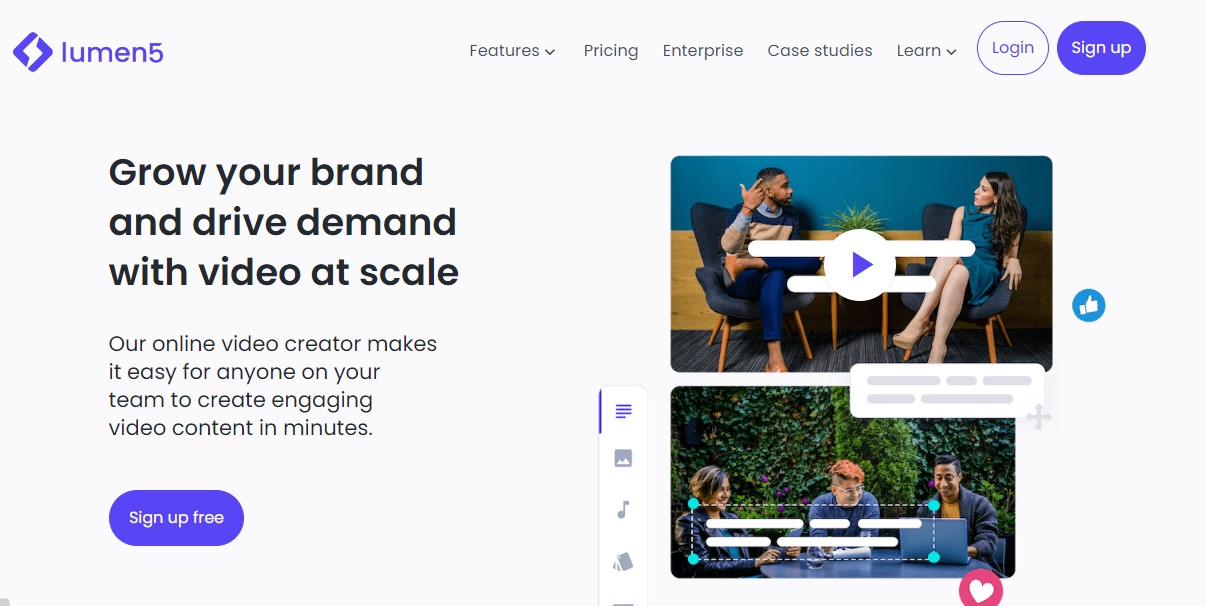 Lumen5 is an excellent tool for creating engaging live-action explainer videos from articles. You can highlight the most crucial text and click the magic button to create a video.
#19) InVideo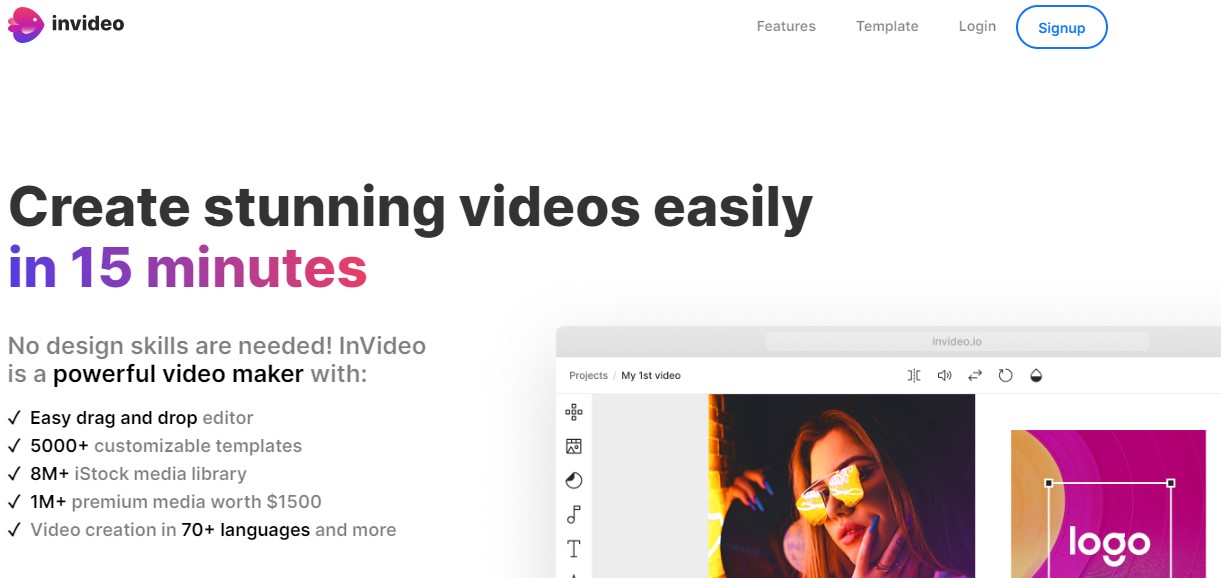 InVideo is a platform for making incredible videos and accomplishing amazing things. This free tool converts your narratives into dynamic videos and is easy to use. Simply choose from over 1200 professionally-designed templates and add your twist.
InVideo has IVA, your go-to video stylist, to help simplify the process and improve the final product. The Intelligent Video Assistant (IVA) ensures that everything in your videos is right, from the text and images to their alignment and colors.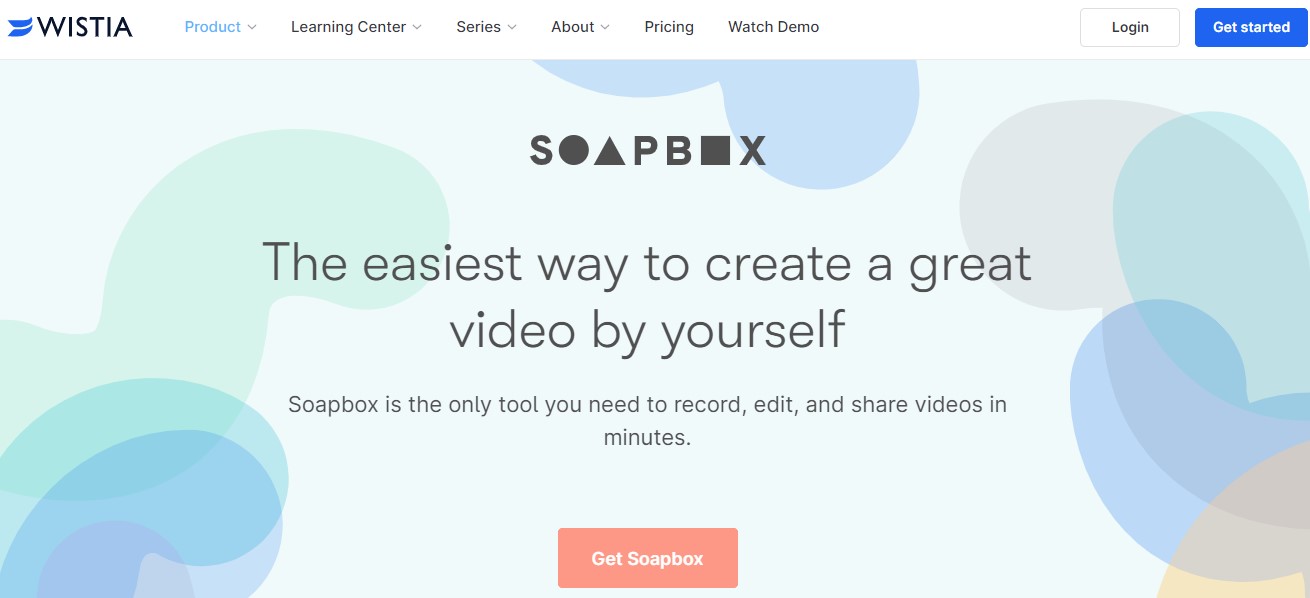 Soapbox is a Google Chrome extension that lets you quickly and easily record, edit, and share videos.
To create an explainer video, you can make a talking-head-style recording with your webcam and complement it with text, images, slides, and other videos. It helps in creating engaging live-action explainer videos.
How to make a good explainer video?
A good explainer video should help the audience understand your goal, product, or service by clarifying your message.
This will enable them to learn more about what you offer and how it can benefit them. To be effective, here are some tips to keep in mind:
Focus on the customer's pain points.
Emphasize the product's benefits to the user.
Show a product or service in use.
Don't add too much at once. Follow the KISS concept (Keep it Short and Simple).
Add humor when suitable.
Make sure it communicates your message.
Why make explainer Videos?
An explainer video is not only easy to understand but there are several other advantages linked to it. Let's examine some of the reasons why creating explainer videos is essential.
Capture the interest of prospects.
Generate leads
Increased reach because it is easy to share.
Clearly explains the product and how it works.
Over To You
Explainer videos are a great way to simplify complex topics and make them more engaging for your audience. There are many different explainer videos, each with unique benefits.
To make a good explainer video, you need to know who your audience is and tell a story that speaks to them. When done correctly, explainer videos can be a powerful marketing tool that drives conversions and builds brand loyalty.
Explainer videos are one of the best ways to increase your ROI and get your target audience to take action. But, if your company is trying to keep the expense down or doesn't have a budget, you decided to choose these DIY tools; I'm sorry to tell you that it's not the wisest one you'll make.
While these software and free online tools give you a lot of features and templates, you'll not have complete control over the video or output the script how you want to so that you can convert your customers into buyers.
If you're interested in creating an explainer video for your business but don't know where to start, we can help. We are a UX design studio that produces professional and high-quality explainer videos. We'll help tell your brand's story engagingly and make you go "WOW."