UX Architect vs. UX Designer, who are these guys? Their name has lingered on the internet for quite some time now.
It's estimated that more than a million UX professionals are working to make users happy.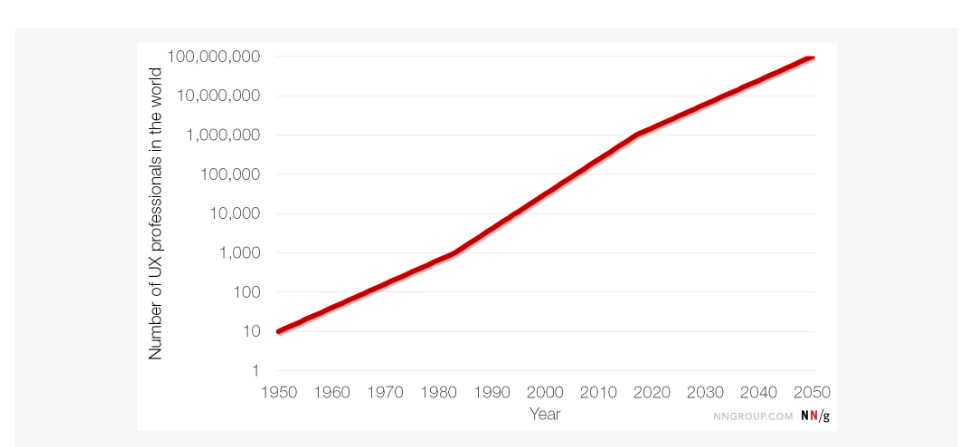 And it is excepted that the number will rise to 100 million by 2050.
Also, the demand for user experience (UX) professionals has grown exponentially as there is a dire need to create better user experiences to survive the stiff competition.
Hence the buzz!
However, there can be some confusion about the different roles within UX design.
For instance, two titles often used interchangeably but have distinct responsibilities are UX Architect and UX Designer.
Not anymore!
This blog post will explore the key differences between UX Architects and UX Designers. We will examine their unique skill sets, responsibilities, and how they work together to create a seamless user experience.
Who is a UX Architect?
A user experience architect is essentially a user experience specialist with a comprehensive viewpoint on a product design.
UX architects usually work closely with research teams or conduct research.
They create prototypes, wireframes, and flow diagrams to map out a product's interface and how users interact.
UX Architects devise and execute strategies that optimize the user experience, ensuring that all product aspects are designed and developed for maximum usability.
They also conduct interviews, surveys, focus groups, and usability tests to gather data about user needs and preferences to improve the product design.
A UX Architect must understand customer needs and be proficient in user research techniques, software development languages, and tools.
They need excellent problem-solving skills, an eye for detail, creative thinking abilities, and user empathy to succeed in this role.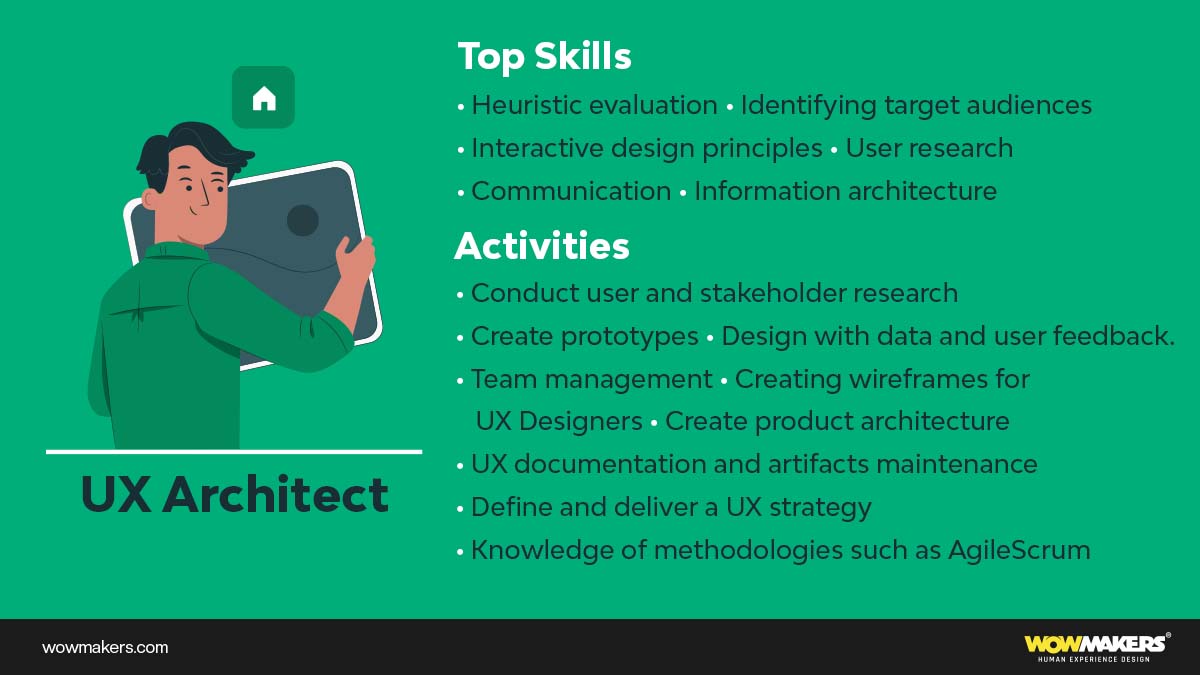 What Is The Difference Between UI and UX Architect?
UI and UX architects are in charge of various product creation stages.
UI architects concentrate on a product's visual representation, ensuring it is aesthetically pleasing and user-friendly.
The main goal of UX architects is to comprehend how users interact with a product, ascertain how useful they find it, and then design an experience that meets those needs.
Regarding their contribution to product development, UI architects are more critical in the initial phases of the software development life cycle (SDLC), as they help design mock-ups and determine how a user should use an interface.
On the other hand, UX architects are experts in research-based methods; they gather user feedback and use it to guide their design choices during later stages of the SDLC, like coding, testing, deployment, and maintenance.
Roles And Responsibilities of a UX Architect
UX Architect ensures that the user experience (UX) of a product or service meets the needs of its intended audience.
The roles and responsibilities of a UX Architect in the SDLC are as follows:
Research: Analyzing and gathering data from user reviews, surveys, interviews, etc., to understand user needs and preferences.
Developing strategies: Identifying strategies for improving user experiences through test plans, wireframes, mockups, storyboards, prototypes, etc.
Designing Interfaces: Creating intuitive and appealing user interfaces using various design tools such as Adobe Photoshop or Sketch to increase usability and desirability among users.
Testing: Conduct tests on products or services throughout the development process to identify any potential problems with design or functionality before releasing them to the public.
Collaboration: Working closely with product managers, developers, and other stakeholders involved in the SDLC to ensure all design requirements are met while offering creative input into product features and ideas.
Presentation & Documentation: Documenting findings from research projects or testing results to present insights into how users interact with a product or service, as well as proposing changes that could be implemented to make it more efficient or effective
Questions UX Architects Address
How can the user experience be optimized from the perspective of the user?
What are effective ways to simplify navigation, content, and visuals for users?
How can user feedback be incorporated into design decisions?
What methods can be used to evaluate usability and success metrics?
How can mobile and desktop optimization be combined for a unified user experience?
Are there any unique considerations to be considered when creating a product for specific user groups?
How can information architecture be leveraged to reduce complexity and make navigation intuitive?
How can different interaction styles, such as gesture or voice control, enhance the experience?
Are there particular accessibility requirements that must be considered within the design process?
Salary of a UX architect
A UX Architect position with a salary range from $91,158 to $111,333 is an exciting opportunity for someone looking to develop their career in user experience design.
How to Become a UX Architect?
Because this field constantly changes, becoming a UX architect requires commitment and ongoing education.
Take psychology, anthropology, design, and communication classes to start.
These will assist you in better comprehending user behavior and interface design.
Learning coding and web development languages like HTML/CSS/JavaScript to create valuable prototypes would also be advantageous.
You should become familiar with the necessary tools, such as Sketch or Figma for interface design and prototyping, InVision or Adobe XD for connecting screens in interactive prototypes, Optimizely or Hotjar for A/B testing, and UserTesting.com or Loop11 for usability testing and user feedback.
Other crucial abilities include knowledge of accessibility guidelines, storytelling methods, experience mapping, and usability heuristics.
To recognize user needs and create creative solutions that satisfy these demands, UX architects also require solid problem-solving abilities.
One way to better understand the procedures for developing successful user experiences is to work on personal projects.
Joining the UX Design community can also be beneficial because it offers a forum for dialogue and collaboration with other designers dealing with similar problems.
Finally, staying current with trends is crucial when working in this industry. It's crucial to stay up to date on new business trends so you can adjust your strategy.
Attending conferences and reading well-known UX professionals' blogs are fantastic ways to accomplish this.
You can become a skilled UX Architect with perseverance, hard work, and continued education!
Educational Qualification Required to be a UX Architect?
A degree in graphic design, human-computer interaction (HCI), interaction design, information sciences, human factors, psychology, or computer science is necessary to work as a UX architect.
They must possess a strong comprehension of user experience principles and methodologies such as human-centered design, usability testing, and wireframing.
They should also be well-versed in software development processes and coding languages such as HTML5, CSS3, JavaScript, and web frameworks.
Expertise in user interface design principles and practices is essential for UX architects to be successful in their roles.
With these qualifications and skillsets in place, UX architects can provide valuable insights into how users interact with products to create successful digital experiences.
Skills Required to be a UX Architect?
Hard skills required for a UX architect include knowledge of design software such as Sketch, Adobe Creative Suite, InVision, and Axure, user research methods, wireframing techniques, prototyping tools, and front-end development.
A UX architect must also be proficient in information architecture, visual design principles, and usability testing.
Soft skills necessary for a UX architect include strong communication skills, user empathy, and collaboration with other stakeholders.
Additionally, UX architects must be able to think creatively and strategically to solve complex problems through design solutions.
The essential skills for a successful UX architect are a flair for creative problem-solving, attention to detail, critical thinking, and the ability to communicate ideas.
Who is a UX Designer?
A user experience designer (UX designer) is a professional who specializes in understanding user behavior and creating designs tailored to users' needs.
They are dedicated to ensuring that the end-user experience when interacting with digital products is positive and effortless.
To understand user behavior, UX Designers use various techniques such as usability testing, data analysis, and research into user-centered design principles.
They then use this data to create wireframes, prototypes, and functional designs tailored to the target audience's needs.
UX Designers also work with developers and other stakeholders to ensure that user interface (UI) components are correctly and efficiently implemented.
A UX Designer's ultimate goal is to ensure users have a consistent product or service experience.
They understand how key design decisions, such as navigation layout/structure and visual design elements like typography and color scheme, can influence how users interact with products.
They contribute to the creation of products that are both delightful and simple to use by ensuring an intuitive flow in the user experience.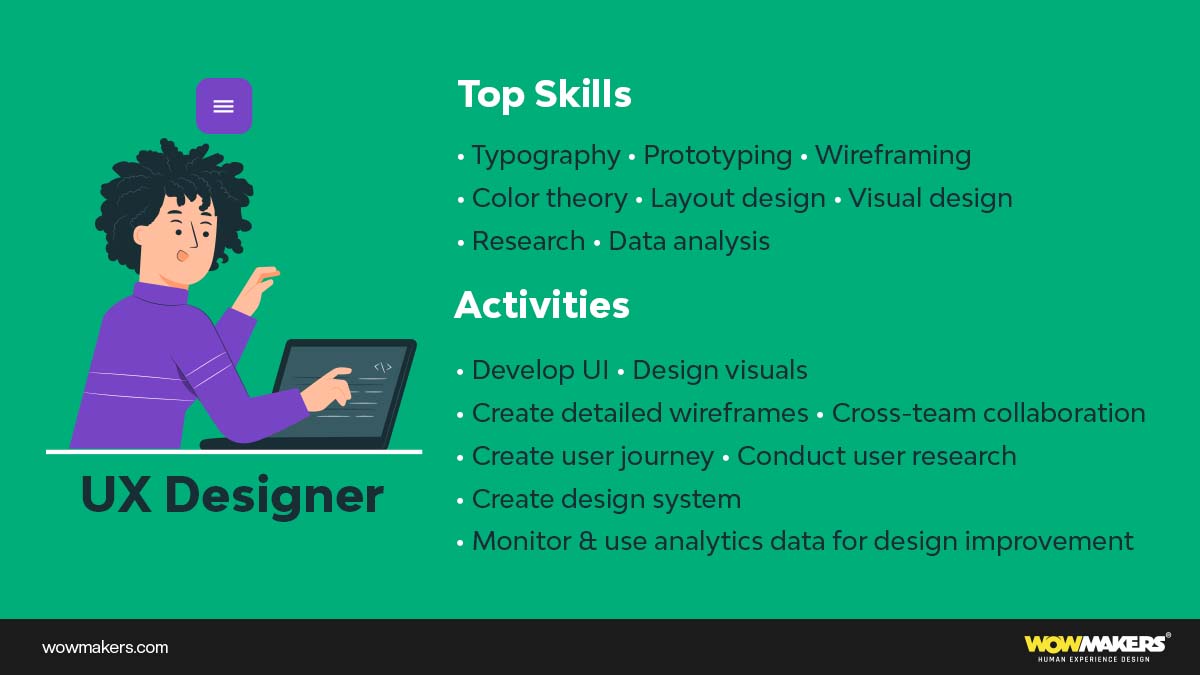 Questions That UX Designers Address Include:
How can user interfaces be designed to be intuitive, efficient, and effective?
What elements should be included to ensure the best user experience possible?
How do user needs and preferences influence design decisions?
What strategies can be used to assess the usability of a product or service?
How can design changes be tested for maximum impact?
How can feedback from users inform ongoing design iterations?
How do users interact with different technologies, such as mobile devices and wearables?
What data should be collected to understand user behavior and preferences better?
How can multidisciplinary teams collaborate effectively on UX projects?
Roles and Responsibilities of a UX designer
Develop user interfaces and experiences to meet customer needs and company goals.
Analyze user feedback/requirements to create detailed wireframes and mockups for web, mobile, and other interfaces.
Collaborate closely with developers, product managers, marketing teams, and other stakeholders to promptly ensure a product or service meets the user's needs.
Conduct research using qualitative interviews, surveys, focus groups, usability testing, competitive analysis, etc., to gain insights into user behavior.
Create design systems for new products or features, including user flows, clickable prototypes, style guides, etc.
Utilize analytics data to identify opportunities for improvement in existing products.
Work on UX deliverables such as concept sketches, task flows, information architecture diagrams, etc., to ensure an intuitive interface that is easy to use.
Use tools such as Photoshop, Sketch App, Adobe XD, etc., for the visual design of websites/applications & creating various assets like icons & illustrations.
Salary of a UX designer
The average salary for UX designers in the US ranges from $97,241 –  $116,693 annually, according to Glassdoor.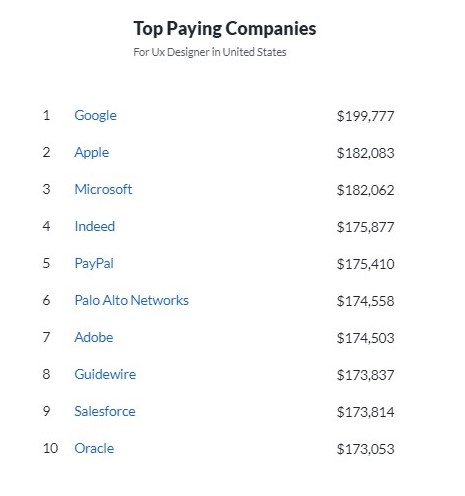 Salaries vary depending on skill level, experience, and location. For example, those in San Francisco typically earn 17% more than those in Austin.
Skills Required to be a UX Designer ( hard and Soft skills)
Hard Skills
A UX designer needs strong knowledge of design fundamentals such as typography, color theory, layout design, wireframing, and prototyping tools like InVision or Sketch.
They also need strong coding abilities across HTML5/CSS3, JavaScript, and associated frameworks like React or Angular.
Knowledge of user research methods, including interviews, surveys, and usability testing, is also essential.
Finally, a working understanding of the software development process—and how UI fits into it—is essential for success in this role.
Also, good knowledge of information architecture, wireframing, prototyping, coding languages, graphic design principles, and web analytics is needed.
Soft skills
They are just as crucial as hard skills for UX designers. This includes an eye for detail that can result in intuitive user flows, emphasizing speed and simplicity.
Empathy for the user is essential so that the designer can accurately represent their needs in the product's interface.
Excellent communication skills enable the designer to collaborate with the development team on challenging technical problems while remaining sensitive to their workloads.
Finally, problem-solving capabilities come into play when presenting data-driven solutions to complex design challenges during any project cycle.
Educational Qualification Required to be a UX designer
To be eligible for a role as a UX designer, there are specific educational qualifications that need to be fulfilled.
A degree in Human-Computer Interaction (HCI), User Experience Design (UXD), or a related field is usually expected.
Knowledge of software development and programming languages such as HTML5, CSS3, JavaScript, and other web development tools can be helpful but not an absolute requirement.
A deep understanding of user interface design principles and techniques can also be beneficial.
This includes knowledge of the latest research trends, usability testing best practices, wireframing and prototyping methods, accessibility standards, and cross-browser compatibility problems.
A clear understanding of visual design principles such as color theory, typography, and layout techniques is also required.
Aside from technical knowledge, a UX designer must possess excellent problem-solving skills and customer empathy to understand users' needs better.
Strong communication skills in both written and verbal forms are necessary for working with teams on various projects.
Why Should You Hire a UX Designer?
Hiring a user experience designer is critical for developing a successful and user-friendly digital product. A UX designer has the skills to create an appealing, intuitive, and simple interface.
By understanding user behavior and preferences, they can assist you in creating a more enjoyable user experience.
Additionally, UX designers can optimize your website for search engine optimization, making it easier for users to find your company online.
By leveraging their design theory and psychology expertise, they can ensure that users can access a well-constructed product that meets their needs.
Finally, a UX designer will ensure that your product or website stands out and provides the best possible user experience.
Why are UX Designers in Demand?
As technology advances, having a UX Designer on staff is becoming increasingly essential for businesses.
This is because users expect more from their digital experiences, and UX Designers provide the expertise needed to create user-centric products and services.
Recent research has shown that companies investing in UX design have seen an increase of up to 200% in conversion rate, with improved customer satisfaction scores of up to 57%.
Additionally, businesses with a well-thought-out UX design strategy can reduce development costs by around 75%, providing a better return on investment (ROI).
As a result, the demand for experienced UX Designers has surged in recent years and shows no signs of slowing down.
UX Architect vs. UX Designer: What are Their Key Differences?
| | |
| --- | --- |
| UX Designer | UX Architect |
| Aesthetic and visual aspects of user experience (UX) | Structural and functional aspects of user experience (UX) |
| Do research, create a user persona, create a wireframe and prototype, and do user testing. | Plans and conducts user research and surveys, analyze and evaluate digital product architects, and creates sitemaps, product maps, user flow, information architecture, user flows, wireframes, prototypes, etc. |
| Skills are given more weightage. | Besides skills, deep-rooted knowledge in human-computer interaction (HCI), interaction design, information sciences, human factors, psychology, and computer science is necessary. |
| Creating a visually appealing and engaging user interface that meets the needs of the user | Creating a blueprint or plan for how the user will interact with a product or service |
| Their major focus goes to details | They consider the big picture. |
| Graphic design software, prototyping tools, CMS | UX research tools, wireframing tools, prototyping tools |
| They find ways to address users' needs | They find out what are the needs of the user. |
How UX Architects & UX Designers Work Together
To guarantee that the finished product or service provides a great user experience, UX Architects and UX Designers frequently collaborate closely as a part of a larger UX design team.
The following are some examples of how UX Architects and UX Designers work together:
The problem the product or service intends to solve is identified and defined in collaboration with stakeholders by the UX Architect and UX Designer.
Together, they define the project's goals and understand the needs and objectives of the user.
User research is something that the UX Architect is in charge of doing to gather the information that will help with the design process.
To comprehend the research findings and incorporate them into the design, the UX Designer collaborates with the UX Architect.
The site map, user flows, and wireframes are all created by the UX architect as part of the information architecture.
The UX Designer collaborates with the UX Architect to ensure the visual design is intuitive and adheres to the information architecture.
To create design concepts and ideas that align with the user's needs and the project's objectives, the UX Designer collaborates with the UX Architect.
The UX Designer collaborates with the UX Architect to conduct user testing and develop prototypes.
To enhance the user experience, they evaluate the test results and refine the design.
To ensure that the design is correctly implemented and that the finished product or service provides a beautiful user experience, the UX Designer collaborates with the development team.
Does Your Company Need UX Architects & UX Designers?
Having a UX Architect and UX Designer on board is essential for successful user experience design.
The UX Architect focuses on the big picture, looking at the overall product or service and how the customer will interact.
They are responsible for ensuring the product or service integrates well with existing systems, is easy to use, and meets business objectives.
Meanwhile, a UX Designer focuses on the details and implementation of individual features.
They work closely with developers to ensure that each feature has been designed correctly and works as expected from the user's perspective.
By combining these two roles, companies can create a better product or service offering by creating an optimal customer experience while meeting their business goals.
Conclusion
Hope this blog has helped you with a clear distinction between both profiles.
It's not about UX Architect vs. UX Designer; It's about combining experience and expertise in various roles that ensure impeccable UX.